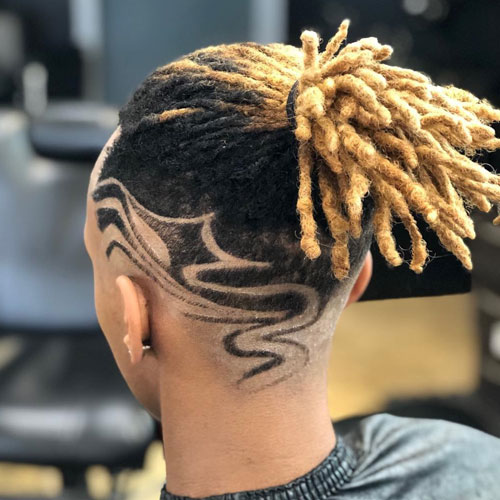 Last Updated on December 16, 2022 by Hooria Batool
Dreadlocks for Men
The dreadlock is a popular hairstyle for men who are bold and like to show off their looks. For men, this is a very striking hairstyle that makes a statement. Despite its unconventional look, the dreadlock style is one of the few haircuts that have gained wide popularity.
You will likely reconsider your hairstyle after seeing some fantastic dreadlock styles. It might be a good idea to try dreadlocks if you don't mind showing your edgy personality. We have curated the top dreadlock hairstyles for men to make your life easier. Check them out!
Top 12 Best Dreadlock Styles for Men
The best dreadlocks styles for men are the ones that make them look great, give a lot of character and personality, and provide versatility. You can wear them to work or on a night out on the town. Or, you can wear it while working on your car or on some other project where you might get dirty. Dreadlocks add style and flair to any man's hair. Here are some of the top 12 dreadlock styles for men:
1. Casual Combed Back Hair-Down Look
You can have long dreadlocks down your back or short ones too. It is a casual hairstyle, so there isn't anything fancy about it at all. To get this one going, wash your hair thoroughly using an anti-dandruff shampoo to prevent dryness of the scalp. Towel dry the hair, then use a brush to comb it back all the way. Let them dread on their own, so you don't have to do anything else.
2. Dreadlocks with Short Hair for Men
If you want long dreads with short hair, separate your hair into sections and begin twisting each section until it looks like dreadlocks. You were once done; tuck in all the ends under one another, so they stay in place nicely.
3. High Top with Dreadlocks at the Crown
One of the most popular male hairstyles with dreads is a high-top fade haircut with locks at the crown or side.
4. Long Dreadlocks for Men
Make a part on the side of your head and let the dreadlocks fall behind you. They should reach all the way to your waist or even longer if you want it that way. Keep them clean so that they will have a fuller look.
5. Medium Length Dreadlocks with Side Parting
This is probably one of the most straightforward styles to pull off because you don't have to worry about finding a section in which to start twisting up your hair into knots. You twist each section as you go along from front to back, then tie it together at the end.
6. Short Dreadlocks for Guys with Longer Hair
If long, wavy hair is not what you're looking for, but dreadlocks are, consider getting shorter dreads. They will look good if you have long hair already and want something different for a change.
7. Short Dreads with Fade
This is another version of short dreadlocks for guys who have long hair that they don't want to get rid of just yet. You can also try them in a bade haircut, so it looks like your hair is being cut down gradually from the top to the sides and back, which makes it stand out from other hairstyles for men with short hair.
8. Two-Tone Dreads
Read more: An Extensive Guide about Acrylic Nails And How Long Do Acrylic Nails Last?
Here's another type of hairstyle where the two-tone color pops! The bottom half is blonde, while the top half has a dark brown color.
9. Long Dreads with Shaved Sides
If you want long dreadlocks but prefer to keep your sides bald or shaved, try letting the dreads grow out on top of your head, which is where most people typically wear their locks anyway.
10. Short Dreads for Bald Head
Since this hairstyle is meant for bald heads only since concise hair is needed in order to pull it off, you can let the hair go natural and have them turn into dreadlocks that way. All it takes is patience!
11. Gelled Back Dreadlocks with Fade
Here's another version of the fade haircut but without extensive fading at all. Instead, there are just some slight touches on either side of the head. The hair on top has been gelled back and made to stick straight up, thus giving the dreadlocks a jagged look.
12. Long Dreads for Short Hair
Think again if you believe that your short hair doesn't fit any hairstyles with long hair like dreads. All it takes is creativity and some braiding skills to try something different!
13. The Tyga's Locks
What better person to take inspiration from than rapper Tyga? Youth and confidence are evident in these medium-length, curly dreadlocks. As always, the bun/ponytail motif is coming into play.
FAQs