Last Updated on June 19, 2023 by hassan abbas
Obesity is a growing health epidemic around the world, and our unhealthy lifestyle is at the root of this disorder. It is now a proven fact that Green Tea has been associated with Weight Loss as one of its important benefits.
Green Tea has many health benefits apart from being just calorie-free and is a popular choice amongst many who are health conscious.
Many willing to lose weight drink water before meals to fill up their stomach so as to consume fewer calories from food. Studies have shown that people who consumed two cups or more of water before mealtime shed more pounds than those who don't. An even better alternative to water would be a completely natural, organic Green Tea which brings in the added health benefits over water.
Consuming green tea daily is known to complement a healthy eating routine and when clubbed with working out and exercising, it results in much better outcomes when it comes to losing weight. It is for a reason that Green tea is acknowledged to be one of the greatest teas for promoting overall health and weight loss.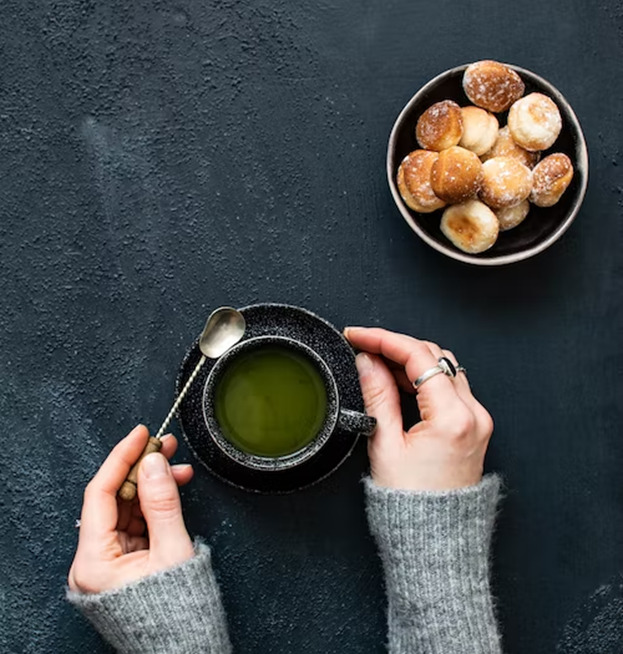 The catechins in green tea help in breaking down excess fat consumed by the body, essentially regulating a higher rate of metabolism allowing better digestion at a relatively higher rate. There are predominantly 4 kinds of catechins found in Green Tea with Epigallocatechin Gallate (EGCG) being the most abundant one.
Catechins are flavonoids found in several food sources such as black grapes, apricots, and strawberries for example apart from the Green Tea. But Camellia sinensis (scientific name of tea plant) has even higher variations of these complex compounds: epigallocatechin (EGC), epicatechin gallate (ECG), and epigallocatechin gallate (EGCG). Since Green Tea leaves are dehydrated (dried) and steamed rather than fermented, the proportion of these flavanols is much higher in Green Tea than in any other, resulting in higher rate of weight loss.
Green tea is an extraordinary rich source of Antioxidants, Vitamins (especially B), Magnesium, and several other complex compounds along with Caffeine. One must regulate the intake of Caffeine as excessive consumption could lead to other healthcare complications.
However, there are Green Teas types like Kangra Green Tea that is known to pack a punch of goodness with least amount of Caffeine amongst all other teas.
Where to buy a good Green Tea from?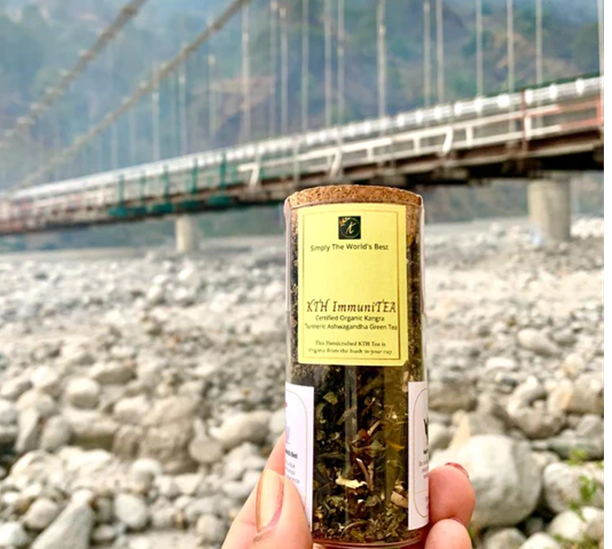 Kangra Tea House offers some of the best organic green teas. They offer whole loose tea leaves which are flavourful and brought to you straight from the The Great Himalayas. They are 100% certified organic green teas with zero additional flavours or additives. The finest two flavours are listed below-
Totally unalloyed, this premium pure green tea has a mellow and soothing undertone with a fantastic fruity aroma. It is It aids in weight loss and combats both bacterial and viral infections. It is extremely high in antioxidants and benefits the heart, brain, and bones.
This morning Tulsi Green Tea could be an excellent way to begin your day. Tulsi has a strong zesty and spicy rich flavour enchaing the charm of Kangra Green Tea further. It can be served hot or cold. It is high on antioxidants and helps to boost immunity, relieve pain, and increase energy.
IMPORTANT – These premium tea leaves can be rebrewed/ reused and the taste as well as health benefits are even better in the 2nd and 3rd brews as the tightly hand-rolled leaves open up completely.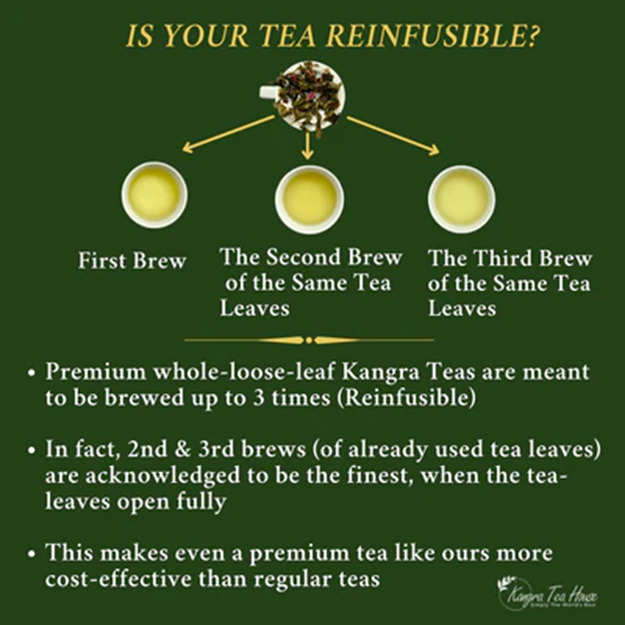 Frequently Asked Questions
When should I drink green tea to lose weight?
Studies suggest that the consumption of Kangra Green Tea for weight loss is most effective if taken before meals hence morning is the best time to do so. However, it is a great drink for early evenings as well to rekindle your spirits and revive those senses.
Does green tea burn belly fat?
Green tea directly does not result in belly fat burning, but it impacts fat burning by stimulating a higher rate of metabolism, and when accompanied by a proper diet and some exercise, one can certainly lose weight.
Is green tea better served hot or cold?
Cold water extracts a lesser amount of caffeine and catechins into the brew, this results in the tea sometimes being a bit less bitter and may be even better in taste; however, since catechins result in weight loss and an increased metabolism, a lower rate of catechins and caffeine would reduce the tea's weight loss efficiency. That said, since Kangra Tea by category is itself lower on Caffeine, it might be a good option.