A clean and properly organized home is always preferable. Laundry is a huge part of the household, and no one can ignore the importance of maintaining proper laundry. Like all other regular staff like cooking, cleaning, ironing clothes, and other activities to maintain a household, you need to maintain the laundry as well. Even the laundry system has a few precise rules that you must follow and steps that you must do to achieve the result you want. You cannot forget the need for quality laundry cabinets to make your laundry work flexible and seamless.
Why should you invest in laundry cabinets?
You may find it some extra expenditure to buy the laundry cabinets to manage your weekly laundry. However, you need a specific place to keep the laundry items in proper order for families with multiple members and their regular clothes to be washed. You need to decorate your laundry room with potential resources to make it useful and effective for making your laundry. You should consider installing laundry cabinets to ensure your laundry room looks smart in appearance. Besides appearance, it also helps to organize space effectively in your laundry room and the entire household.
Investing is cabinets designed for laundry is very effective and useful. People who love to keep the house clean and love to keep things in place, love using such cabinets. These cabinets not only save space in your room but add value to the interior. If you consider having a laundry cabinet, you must explore the advantages of such cabinets in detail.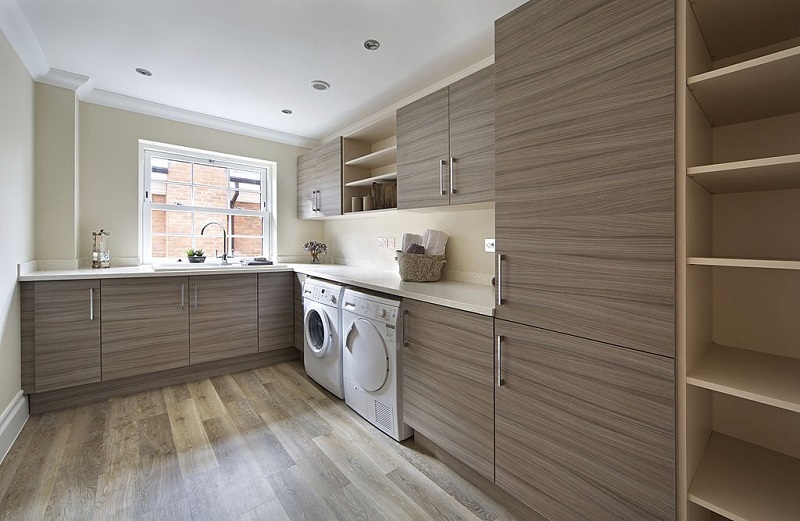 What are the benefits of using laundry cabinets?
You may consider a kitchen cabinet and a laundry cabinet to be similar. But there are slight differences, and you must not avoid them. Some of the benefits that you earn from using a laundry cabinet are-
You may find that the cabinet will minimize the storage in your room but, it will offer you more space for keeping items before and after laundry.
Besides laundry items or clothes, you can use the large cabinet for keeping items like irons, other tools, supplies, and more. This keeps the room and the surroundings clean and neat.
When you are adding laundry cabinets to your interior, it offers you more space and keep the rest of the room clean and maintains the decency of the room and its surroundings without much struggle. You don't need to put in extra effort to keep things sorted. Just use the cabinet to keep clothes and tools in different segments, and your job is done.
All your laundry items stay organized within the cabinet as every product will have a defined space. You should maintain the space and the defined items to avoid any massacre within your laundry cabinets.
You can find out the clothes and ironing tools quickly when needed without much struggle when you will keep them in the pre-determined places.
If you are not very fond of a cabinet, you can set your laundry storage in different shapes and sizes and forms like drawers, shelves, or even countertops.
Everyone is looking for an aesthetic interior these days, and just your laundry cannot spoil the charm of your interior. Once you have quality laundry cabinets in your interior, it highlights the appeal of your interior as well with simple presence.
Besides making it worthy of the interior, it also accelerates the visual treat of your laundry room, in a way to enhance your idea and look of your interior. You can be assured that the value of your interior will increase like never before.
You cannot just place laundry cabinets within your laundry room without considering about the other elements of your interior and the specific room. But this will serve all your needs and you will enjoy all the benefits mentioned here any time you get a cabinet in your laundry. Also, it enhances the look of your room along with your interior. Installing laundry cabinets are worthy of your investment and you can be assured about this undoubtedly. Research well before making the decision and take the right step to make your laundry experience soothing and seamless.