If you're thinking of trying to download Android applications for Windows, then you'll want to download NoxPlayer. This free Android emulator is a much better alternative to Bluestacks. But be warned: it's not 100% reliable and requires a lot of computer hardware resources. However, you can download and run games and apps from the play store, or simply drag and drop an APK link from your computer via NoxPlayer for Windows.
NoxPlayer for Windows is a free Android emulator
NoxPlayer is a free Android gaming emulator that lets you play Android games and apps on your computer. It features a variety of useful settings including gamepad support and CPU and RAM sizing, so you can emulate the experience of playing Android games on a high-end smartphone. It also lets you test software on various phones and emulates the experience of using them on your computer.
This emulator is also compatible with gamepads and Bluetooth controllers. It can run four games at once and supports multiple gaming accounts. It can also record on-screen operations with its Macro Recorder feature. However, you must be careful when playing games with high CPU usage or with a large number of enemies populating the screen.
NoxPlayer for Windows support runs Android games on windows 
NoxPlayer can be used to run Android games and apps, but it can sometimes encounter some technical problems. One common problem is that NoxPlayer may encounter a conflict with your graphics card. To fix this, update your graphics card driver. It's easy to do with automatic driver update software.
Another Android emulator for Windows is PrimeOS, which turns your PC into a mobile gaming system. PrimeOS is an open-source, dual-booting emulator that combines the Android ecosystem with the system interface. It is an excellent choice for people who want a desktop-like experience without the lags of many other Android emulators.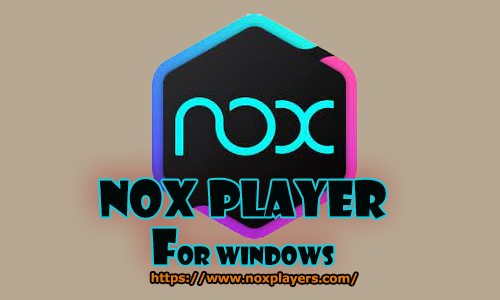 Another popular Android emulator
BlueStacks is another popular Android emulator for Windows. This emulator runs any Android game and lets you play it on a Windows computer. It also supports all peripheral devices, including the camera and microphone. It even has a built-in video recording function. It has a large selection of games and is easy to install.
Android emulators use touch-based interaction and mimic the touch method. As a result, they are similar to the Android interface, although they differ in a few areas. You can download all Android applications and games from the Android store and run them in the emulator. This Android emulator runs Android Nougat (7.1.2 by default, but it is also compatible with Kit Kat (4.4) and Lollipop (5.0).
Can download the free version
Alternatively, you can download a free version of Android Studio. Both emulators are compatible with Windows and Mac OS and are designed to work on modern versions of the operating system.
It is 100% better than Bluestacks
There are a few key differences between the two Android emulators. BlueStacks can play games in foreign languages and has an excellent frame rate. In contrast, NoxPlayer can run well on low-end computers. This is because of its better performance optimization.
While BlueStacks has an elaborate user interface and more features, it also requires 2 GB of RAM, compared to 1 GB for Nox. Nox is also much easier to use than BlueStacks. Its interface is simpler, less cluttered, and more natural. The latter is also lighter and faster than BlueStacks.
Based on Android 7
Nox Player is based on Android Nougat 7.0 and sports a Material UI. It also allows users to have root access. If you've used BlueStacks before, you know how difficult it can be to root the emulator. However, with Nox, you can enable a toggle in the settings and instantly have root access.
The biggest difference between NoxPlayer for Windows and BlueStacks is in the OS and the system requirements. While BlueStacks is easier to download and install, it is a lot more complicated to use. NoxPlayer also uses fewer resources, which is important for users who have low-end computers.
More Stable
Nox is far more stable than BlueStacks and requires less memory. It also works with Windows XP PCs. Nox is also compatible with Windows Vista and the next upgraded versions. Furthermore, Nox is lightweight and requires only 1 GB of memory. The application can even beat other emulators in the market.
NoxPlayer has a great number of features that make it superior to BlueStacks. In addition to supporting high FPS games, it allows users to play up to four games simultaneously. Additionally, it includes preloaded games and supports APK files, which can be used to load more games. The Nox emulator also allows users to customize their graphics.
Android emulators have been around for some time, but people still enjoy running Android apps and games on their desktop devices. There are two main types of Android emulators: BlueStacks and Nox. BlueStacks was one of the first Android emulators, but it's no longer stable and offers only bare-minimal features.
It is unreliable
If you are using Windows, you might be wondering if NoxPlayer is reliable or not. While Nox Player is known for being powerful and fast, some users have complained about it being unreliable or crashing. Fortunately, there are several solutions to this problem. Try one at a time, and see if it fixes the problem.
One solution is to enable the virtualization feature on your PC.
Virtualization allows you to run multiple operating systems on the same computer. This will make NoxPlayer work more efficiently. However, this method may not work for every computer. To find out if this option is available in your system, visit the NoxPlayer interface and click the Settings button. The Advanced tab will have a Performance Setting section.
Another solution to the NoxPlayer for Windows problem is to update the software. This way, you can fix the problem of the no sound. This problem is caused by outdated drivers. When your drivers become outdated, your PC will become corrupt and may not function correctly. To get the latest version of the software, visit the NOX website.
There is also the problem of the software installing commercial programs in the background. Moreover, no uninstall button is available for the software, which means you have to manually remove the files from the malware folder. To avoid this, it is important to download the latest version of NoxPlayer from the official website and not from malicious links. You should also make sure that you have clean and trusted media to install NoxPlayer.
Update Nox
Another reason that NoxPlayer for Windows is unrelatable is the version. The latest version of the app may not work on your PC due to system incompatibility. If this is the case, update your device drivers and the NoxPlayer for Windows will run properly.
If you're looking for an emulator that supports Android games and apps on Windows, then NoxPlayer might be for you. Nox has been monitored regularly by antivirus platforms and has passed several tests. The program is similar to BlueStacks but requires an upgraded graphic card and updated card drivers.
It requires computer hardware resources
To run NoxPlayer for Windows, your PC should have enough memory and processor speed. You should also enable virtualization, which allows you to run multiple operating systems on a single PC. This can make Nox Player run faster and give you a better gaming experience. This feature is found in your BIOS settings.
For best performance, you should have at least 1.5 GB of RAM and a dual-core processor. If you want to run multiple instances of Nox Player, you should have at least 4GB of RAM. Nox Player is supported on Windows XP and older versions, but you should ensure that your computer can handle its minimum requirements.
During the emulation process, the CPU and RAM are particularly important. For this reason, modern smartphones typically have four to six cores and 4B – 6GB of RAM. PCs, on the other hand, can be significantly more powerful. In addition to RAM and processor, it needs headroom. To help your PC run NoxPlayer, you can choose to run NoxPlayer in Compatible mode or DirectX mode. You can also customize NoxPlayer's performance by adjusting the settings in the performance settings.